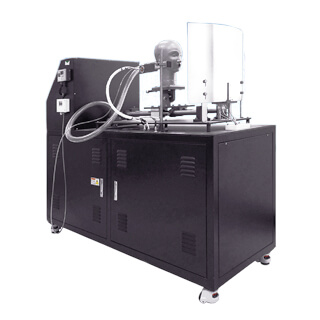 Full Face Mask Thermal Radiation Resistance Test Machine
Responsing Time:
1 Working Days
Overview
Full face mask thermal radiation resistance test machine is professional designed to test full face mask for resistance to thermal radiation. The tester is made up of a dummy head, breathing device, radiant heat source and calorimeter. After exposing the samples to thermal radiation from a source with calibrated radiation output for required time, then testing the leaktightness, the tester can provide thermal radiation resistance performance of tested specimen.
Standards
EN 136, GB/T 16556
Features
4000W Main heater and 2000W auxiliary heater with PID temperature control to provide thermal radiation source.
Stainless steel reflect plate to enhance thermal radiation to full face mask sample.
The metal dummy head is easy to wear mask and simulating breath with breathing device.
Slide for metal dummy head is easy to adjust distance to thermal source.
Water-cooled calorimeter for thermal energy flux calibration.
Artificial lung with sinusoidal output breathing can simulate the human breathing.
PLC control module set breath frequency and volume freely.
Micro pressure meter detect leaktightness of mask during test automatically.
Specification
Item
Detail
Heat flux
80 kw/ m2
Resolution
0.1kW/m2
Calorimeter
Φ40mm copper disc with copper constantan thermocouple
Breathing device
20 cycles/min, 1.5L/stroke (Adjustable)
Heating power
4000W and 2000W
Heating control
PID temperature control system
Metal dummy
Movable sliding rail
Timer
Automatic
Data recording
Automatic
Control system
PLC control system
Artificial lung
Sinusoidal output mode
Power supply
 220V 50Hz
Dimension
1240(W)X700mm(D)X1600(H)mm
48.81(W) X27.55(D)X62.99(H)inch
Weight
152kg
335.1 lb
Configuration
| | |
| --- | --- |
| No. | Product |
|  2042701 |  Full mask thermal radiation resistance tester |
|  2042702 |  Dummy head |