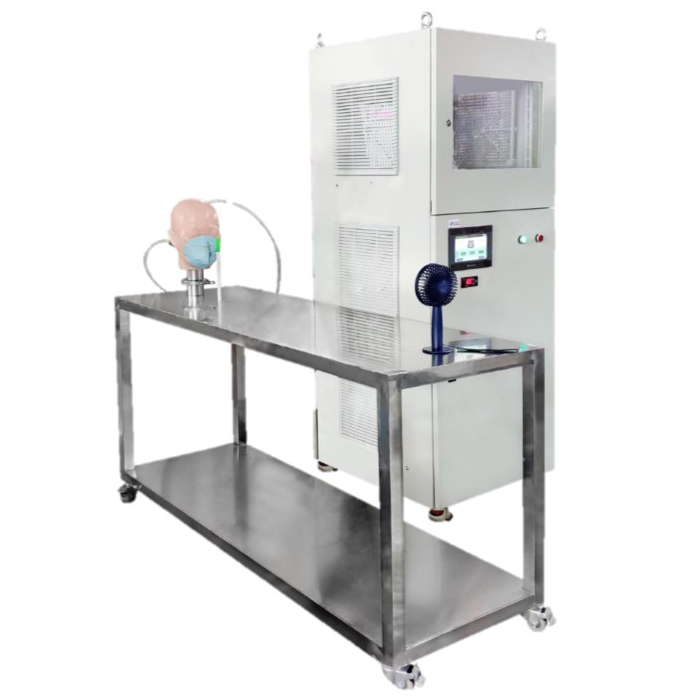 Carbon Dioxide Content of Inhalation Air Tester
Responsing Time:
1 Working Days
Overview
Carbon dioxide content dead space tester is to determine the inhalation carbon dioxide content to measure the dead space. It is used to evluate the respiratory usage safety and determine the use perfromance of personal protective equipments. Equipped the dual breathing machine, CO2 analyszers, software for results calculation.
Features
Touch screen control panel.
Automatic calculation to substract the environment value.
Dual breathing machine.
Control cabinet with test table.
Specification
| | |
| --- | --- |
| Item | Detail |
| Carbon dioxide content | 5.0 ±0.1% |
| Carbon dioxide flow rate | Over 40L/min ±1% |
| Carbon dioxide anaylzer | Over 12% |
| Air flow | 0.5m/s |
| Control system | Touch screen control panel |
| Breathing machine | Two synchronized breathing machine |
| Power supply | 220 AC  50Hz |
| Dimension | 1500mm×550mm×1800mm |
| Net weight | 180 kg |
Configuration
| | |
| --- | --- |
| No. | Product |
| 2044201 | Carbon Dioxide Content of Inhalation Air Test Equipment |
| 2044202 | Dummy Head |