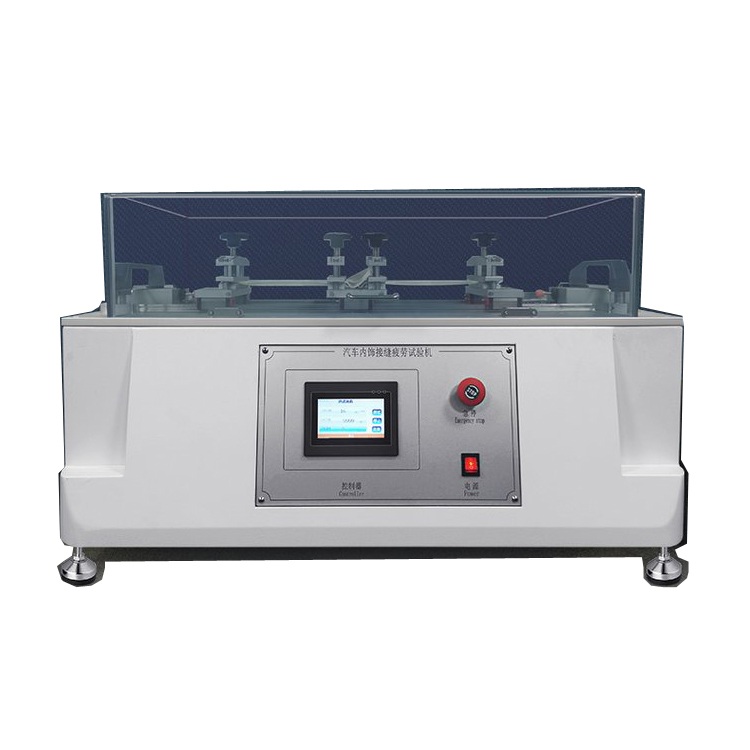 Seam Fatigue Tester
Responsing Time:
1 Working Days
Overview
Seam fatigue tester is professional designed to determine the seam fatigue performance for leather or vinyl leather used mainly for automobile interior trim materials. By providing certain loading weight on specimen, the tester works under setting rotary speed and cycles. The damage and size of the expanded needle hole will be measured as results.


Standards
TOYOTA TSL 5100G 4.22, GMW 3405, FORD MOTOR Co.BN 106-02, Nissan M-0154, TOYOTA TSL 5101G 3.7,  JASO M403, GB/T 4043, GB/T 32011
Feature
Simple panel with digital counter is easy to operate.
Stable motor provides solid testing procedure.
Safety shield ensures safe testing process.
Specification
Item
Detail
Rotary speed
30 cycles/min
Loading weight
3kg
Digital counter
1-999999
Clamping distance
120mm.124mm, 140mm
Clamp width
50mm
Power supply
220V 50-60 Hz
Dimensions
810mm×350mm×560mm
31.89inch×13.78inch×22.05inch
Net weight
60 kg
132.28lb
Configuration
| | |
| --- | --- |
| No. | Product |
| 1209301 | Seam fatigue tester |