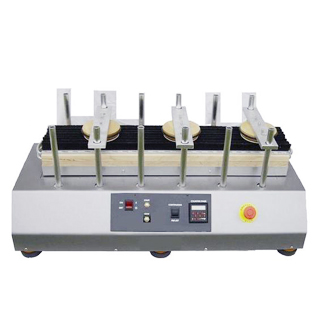 Brush Pilling Tester
Responsing Time:
1 Working Days
Overview
Brush pilling tester is to determine the propensity of fabric to form pills from fuzz under test conditions intended to simulate normal wear. By providing certain rotating speed and rubbing from brushes, the tester can be applicable to determine pilling performance of woven and knitted fabrics for upholstery, automotive, luggage and heavy duty uniform fabrics.


Standard
ASTM D3511, Ford BN 108-14, Ford BN 108-03, GM 9652P
Feature
Aluminum and stainless steel mechanical components.
Adjustable rotary speed and testing brushes.
Presetting digital timer with automatic stop.
Specification
Item
Detail
Specimen holder
660g
Position
6
Rotary speed
58r/min
Digital counter
1-999999
Power supply
220V 50-60 Hz
Dimensions
320mm×300mm×400mm
12.60inch×11.81inch×15.75inch
Net weight
35 kg
77.16lb
Configuration
| | |
| --- | --- |
| No. | Product |
| 2032701 | Brush pilling tester |
| 2032702 | Nylon brush, sponge, velcro and sample holder kit |
| 2032703 | Wood plate and stainless steel sample holder kit |