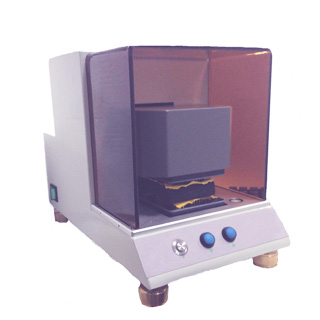 Moisture Management Tester
Responsing Time:
1 Working Days
Overview
Moisture management tester is the tool for the measurement, evaluation and classification of liquid moisture management properties of textile fabrics. By testing the changes in electrical resistance of textiles placed between two horizontal electrical sensors with concentric pins, the tester can calculate fabric liquid moisture content changes that quantify dynamic liquid moisture transport behaviors in multiple directions of the specimen. The software of tester can grade the liquid moisture management properties of a fabric by using the predetermined indices. The tester is used to determine the liquid moisture management properties of knitted, woven and nonwoven textiles, and also can be used to test the one-way transport capability of diapers.


Standards
AATCC 195  GB/T 21655.2  SN 1689.1
Feature
Single one-click testing mode.
Built-in pressure calculating tool provides exact loading weights on tested specimen.
Automatic control system can start testing, stopping and calculating all the indices.
Evaluation, measurement, grading and classification software with user friendly interface is easy to use.
Specification
Item
Detail
Upper sensor
Φ58.4mm (Φ0.54mm pin)
Lower sensor
Φ58.4mm (Φ1.2mm pin)
Liquid adding rate
0.2g/20s
Loading pressure
4.65N
Testing time
120s (Standard time)
Parameter
Absorption rate, one-way transport capability, maximum wetted
radius, overall moisture management capability, spreading
speed, wetting time
Power supply
220V 50Hz
Dimension
350mm×450mm×570mm
13.78inch×17.72inch×22.44inch
Net weight
15kg
33.07lb
Configuration
| | |
| --- | --- |
| No. | Product |
| 2037601 | Moisture management tester |
| 2037602 | Computer with software |
| 2037603 | Conductivity meter |