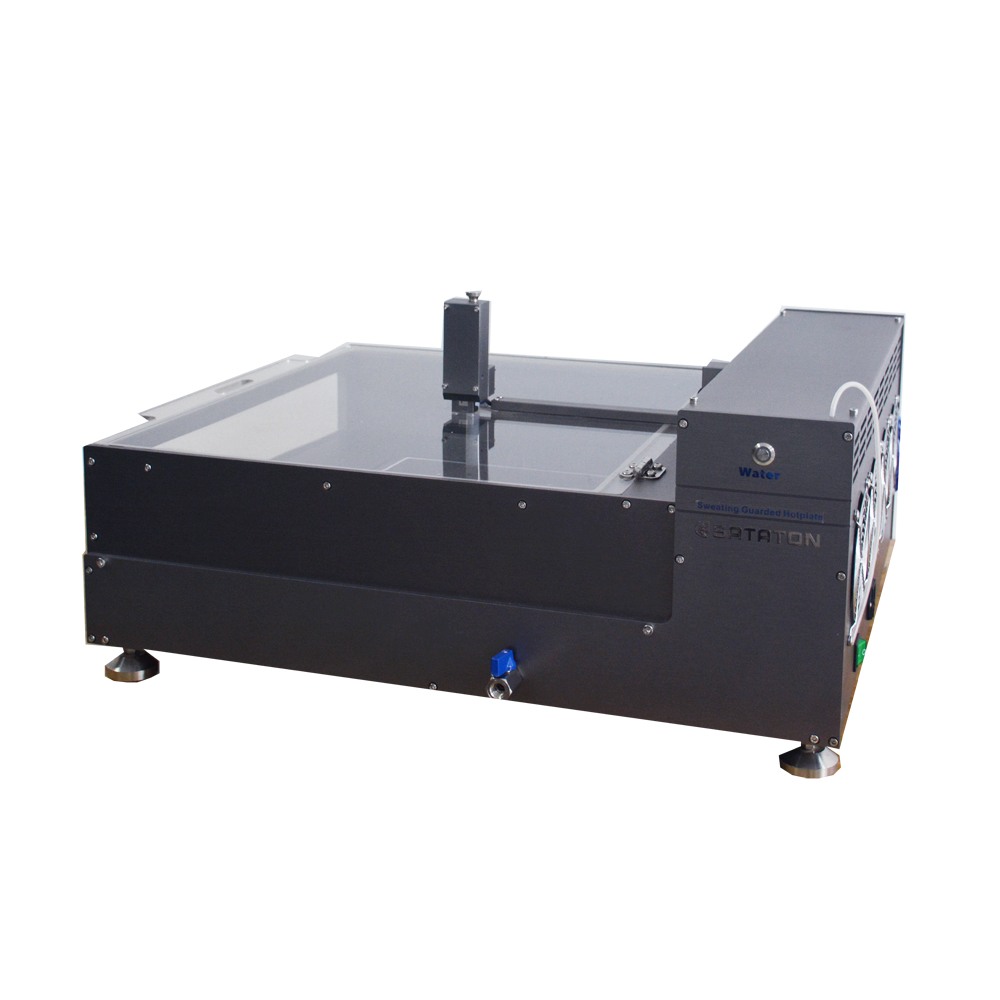 Sweating Guarded Hotplate
Responsing Time:
1 Working Days
Overview
Sweating guarded hotplate is the textile testing instrument for measuring of thermal and water-vapour resistance properties under steady-state conditions. By testing the thermal resistance and water-vapour resistance of textile materials, the tester provides a direct data for characterizing the textiles' physiological comfort which involve a complex combination of heat and mass transfer. The hotplate is intended to simulate the heat and mass transfer processes which occur next to human skin and measure the hence transport properties in a steady-state conditions involving combinations of temperature relative humidity, air speed, and in liquid or gaseous phase.


Standards
ISO 11092  GB/T 11048  ASTM F1868  ASTM D1518  JIS L1096
Feature
Separated type structure is convenient for control and.
Computer with analysis software is for displaying all the real-time data, remote control and creating test reports. It is automatic calculation for thermal resistance, water-vapour resistance (evaporative resistance), water-vapour permeability index, clo, insulation value, heat loss.
Microprocessor computer and data processor is more steady and reliable.
Wireless wifi data transmisson provides the remote control and monitoring.
Automatic calibration system is more convenient to operate and provides exact testing results.
Built-in testing modes as standards is easy to use.
LED lighting provides better viewing conditions.

Specification
Item
Detail
Hotplate
Test plate, guard section, bottom plate
Test plate
250mm×250mm×3mm porous metal plate
Thermal resistance rang
0-2m²K/W
Indicating error
≤2%
Repeatability
≤±2%
Resolution
0.001 m²K/W
Water-vapour resistance
0-1000m²Pa/W
Indicating error
≤2%
Repeatability
≤±2%
Resolution
0.01 m²Pa/W
Moving stroke of hotplate
0-70mm
Air speed
Adjustable 0-2m/s
Indicating error
1%
Testing conditions
Standard mode and user defined mode
Power supply
220V 50Hz
Dimension
780mm×560mm×750mm
30.71inch×20.05inch×29.53inch
Net weight
30kg
66.14lb
Configuration
| | |
| --- | --- |
| No. | Product |
| 2037701 | Sweating guarded hotplate |
| 2037702 | Computer with analysis software |
| 2037703 | Temperature and humidity chamber |
| 2037704 | Nomex defender 750 yellow for ASTM F1868 |