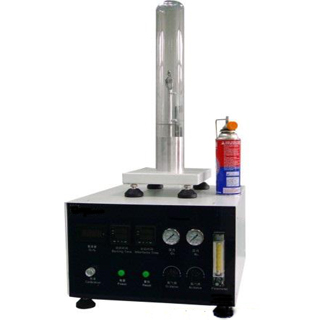 Limiting Oxygen Index Tester
Responsing Time:
1 Working Days
Overview
Limiting oxygen index tester is test apparatus to determine the burning behavior of textile, plastic, rubber and other materials with the help of the limiting oxygen index by calculating the minimum oxygen concentration that will just about support combustion of the sample in a mixture of oxygen and nitrogen. And the minimum oxygen concentration is referred to as the limiting oxygen index. Higher values of LOI indicate greater fire retardancy.


Standards
ISO 4589.2  GB/T 2406.2  GB/T 5454  GB/T 8924 GB/T 8624 GB/T 10707  ASTM D2863  NES 714
Feature
​Digital display of nitrogen gas flow, total flow of oxygen and nitrogen, can preset the testing oxygen concentration.
​Digital display of oxygen percentage in atmosphere during test (no calculations needed).
Paramagnetic oxygen sensor has more precise and stable performance.
Mini-adjustable valves for oxygen and nitrogen is easy to operate and all flowmeters are high precise.
​Gas ignition device, easily adjust the length of the flame.
​High temperature resistant quartz glass tube, can withstand a higher test temperature.
Sample holders for both rigid and flexible samples supplied.
Specification
Item
Detail
Oxygen concentration range
0-100%
Oxygen concentration resolution
±0.1%
Pressure
0.05-0.3Mpa
Chimney
Heat-resistant glass
Dimension of chimney
Φ76mm×500mm
Gas velocity
(40±2)mm/s
Response time
<200ms
Stable time
<5s
Power supply
220V 50Hz
Dimension
420 mm (W) x 350 mm (D) x 560 mm (H)
16.53inch×13.78inch×22.05inch
Net weight
9kg
19.84lb
Configuration
| | |
| --- | --- |
| No. | Product |
| 0670101 | Limiting oxygen index test apparatus |
| 0670102 | Handheld burner |
| 0670103 | Chimney |
| 0670104 | Sample holder kit |