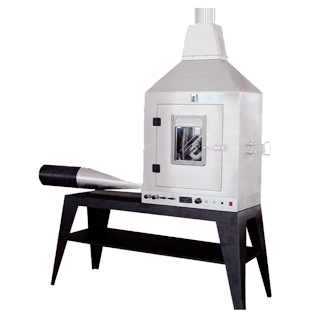 Building Material Radiation Test Machine
Responsing Time:
1 Working Days
Overview
Building material radiation test machine is professional designed to evaluate the M rating of rigid or flexible materials thickness more than 5mm in order to determine the reaction to fire of building materials. The test apparatus is designed according to requirement of NF P 92-501. This apparatus is to determine the flammability of M0-M4 and combustion developing speed of the samples which won't melt during the test.


Standard
NF P 92-501
Feature
Stainless steel chamber with fire resistance internal walls.
Standard conical air intaking system equipped with air filtration system to avoid results influencing.
Epiradiator radiation heating system is adjusted by power controller to meet different requirements.
Needle valve for adjusting flame height.
Equipped with thermocouple for air temperature.
Equipped with testing and analysis software to provide flammability index, combustion developing index and others.
Specification
Item
Detail
Epiradiator
500W
Radiation flux
30kW/m2
Sample support
45°
Chamber
Stainless steel
Testing environment
10-35℃
Power supply
220V 50Hz 10A
Dimension
1600mm×660mm×1500mm
62.99inch×25.98inch×59.06inch
Net weight
80kg
176.37lb
Configuration
| | |
| --- | --- |
| No. | Product |
| 0672201 | Building material radiation test machine |
| 0672202 | Calibration accessories |