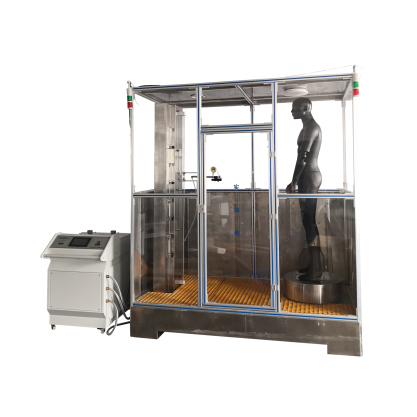 Chemical Liquid Penetration(Jet&Spray) Resistance Tester
Responsing Time:
1 Working Days
Overview
Chemical liquid penetration(jet&spray) resistance tester is designed to measure liquid-tight performance of protective clothing against liquid chemicals. It can be used for jet test, spray test and modified spray test. The tester is composed of three parts: control system, jet&spray system and rotary manikin system. Jet&spray system providing water with fluorescent or visible dye tracer at certain pressure is to simulate the real conditions when liquid chemicals jet&splash on the clothes. Rotary mannequin is more effective and will avoid any potential hazard by testing on human test subject.


Standards
ISO 17491-3, ISO 17941-4, BS EN 14605, EN 463, ISO 16602, GB 24539, GB 24540
Feature
Touch screen control interface is placed outside of the testing chamber.
Presetting parameters of jet system will satisfy different testing requirements.
Integrated display of pressure, time, flow rate is easy for data checking and test monitoring.
There are water indicating material for testing mannequin and it is convenient for checking the penetration performance.
Specification
| | |
| --- | --- |
| Item | Detail |
| Rotary speed | 1rad/min |
| Jet nozzle | Φ4±0.1mm |
| Jetting pressure | (150±15)kPa or 300kPa |
| Jetting distance | 1m |
| Spray nozzle | Spray angle 75 degree, 4 pcs, 45cm apart from each other |
| Spray flow rate | (1.14±0.1)L/min at 300kpa, (0.47±0.047)L/min at 300kpa |
| Spray distance | 1.5m |
| Timer | 0-999.9s |
Configuration
| | |
| --- | --- |
| No. | Product |
| 2045401 | Chemical liquid penetration resistance(jet&spray) tester |
| 2045402 | Testing mannequin with water indicating material |