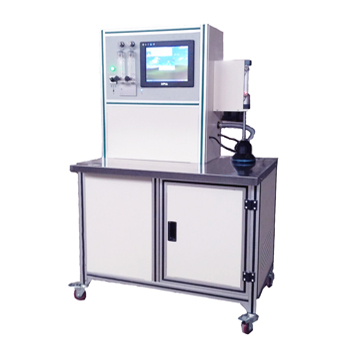 Automated Filter Tester
Responsing Time:
1 Working Days
Overview
Automated filter tester is professional designed to determine the efficiency of air filter, flat sheet filter media or filter elements according to particle counting method. Using salt and oil test aerosol, the tester can measure the fractional efficiency and pressure drop of samples under a prescribed filter medium velocity. High level of automatic operation with stable performance and low maintain cost makes T443 automatic air filter tester widely used in quality control, research and development, certification of air filter industry, filter manufacturing industry, respirator or mask manufacturing or testing industry, etc.

Standard
EN 149, EN 143, EN1822-3  ISO 16900-3   GB 2626  GB/T 32610
Feature
Color touch screen control panel with Chinese and English operation interface.
One unit includes two kind of test aerosol.
DESH aerosol generator.
NaCl aerosol generator.
Simple, fast, stable programmable logic controller system.
Built-in electrostatic neutralizing device provides highly dispersed test aerosol.
Adjustable spray concentration of aerosol.
USB data communication port.
Internal thermal printer.
Built-in internal pump.
Lower cost for commercial application.
Specification
Item
Detail
Particle penetration
<99.99%
Flow rate
20-100 L/min
Particle diameter
0.3, 0.5, 1.0, 2.0, 5.0, 10.0 μm
Pressure range
<1000Pa
Test aerosol
DEHS and NaCl
Test area
100cm2
Power supply
220V 50Hz
Dimension
1050mm×700mm×1550mm
41.34inch×27.56inch×61.02inch
Net weight
170kg
374.8lb
Configuration
| | |
| --- | --- |
| No. | Product |
| 2044301 | Automated filter tester |
| 2044302 | Standard maintenance kit |
| 2044303 | Installation and training |