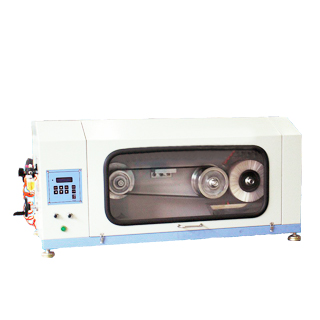 Motorcycle Impact Abrasion Resistance Tester
Responsing Time:
1 Working Days
Overview
Impact abrasion test machine is to determine the resistance to abrasion (against fast running surface) of protective garments for hand palms, knees, wrists of motorbikers under a continus impact loading force according to EN 13595-2, EN 13594 and EN 14120. It is to evaluate the protect performance of jackets, trousers, motorbiker suits, gloves, ect, when motorcycle riders who wear them have impact against a road surface at a high running speed.

Standard
EN 13595-2, EN 13594, EN 14120, GB/T 24278
Feature
Touch screen control panel with PLC control system.
Pneumatic control mode for test sample dropping onto running tape and lifting.
Standard loading weight for test force on sample.
Brush and vacuum cleaner can clean the abrasive surface and the friction chips.
Specification
Item
Detail
Test speed
1m/s-2m/s
1m/s-8m/s
Loading weight
49N
Sample drop height
50mm
Sample drop and lift control
Pneumatic
Abrasive surface clean
Rotate brush
Friction chip clean
Vacuum cleaner
Pneumatic supply
5bar
Power supply
220V 50Hz
Dimensions
1300mm×550mm×600mm
51.18inch×21.65inch×23.62inch
Net weight
80kg
176.37lb
Configuration
| | |
| --- | --- |
| No. | Product |
| 2056301 | Impact abrasion test machine |
| 2056302 | Vacuum cleaner |
| 2056303 | Consumables (abrasive paper, cotton fabric, copper wire and adhesive tape) |
| 2056304 | Impact abrasion test machine with high speed mode for EN 13595 |