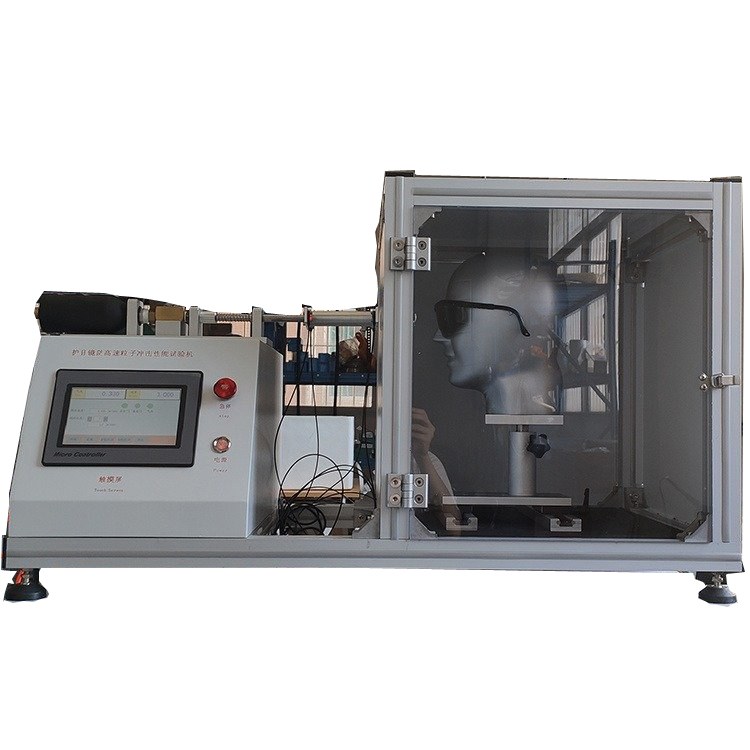 Eyewear High Speed Particle Impact Test Machine
Responsing Time:
1 Working Days
Overview
This instrument is used to test the anti-high-speed particle impact performance of goggles. It is a new generation of eye protector testing instrument developed according to the relevant national standards for eye protectors and relevant foreign standards. It can be widely used in the anti-impact testing and inspection of glasses, goggles, masks, helmets, mobile phone shells, lenses, mobile phone screens and other products.
Standards
EN 166, EN 168, MIL-PRF-31013, MIL-PRF-32432A, MIL-DTL-43511D
Feature
Automatic stop as preset.
High stable testing performance from precise structure design.
Adjustable loading pressure.
Specification
| | |
| --- | --- |
| Item | Detail |
| Steel ball | mass   0.86 g, Diameter 6.0mm |
| Low speed impact (L) | 45 + 1.50 m/s |
| Medium speed impact (M) |  120 + 30 m/s |
| High-speed impact (H) | 190 + 50 m/s |
| Test station | Single station |
| Test distance | 200mm from the launch port to the test sample |
| Ambient temperature | 5 ~ 28 ℃; (up to 35 ℃, but some performance will be affected) |
| Ambient humidity | < 85% R. H (25 ℃) |
| Power supply | 220V   50/60Hz |
Configuration
| | |
| --- | --- |
| No. | Product |
| 1662001 | Eyewear high speed particle impact test machine |