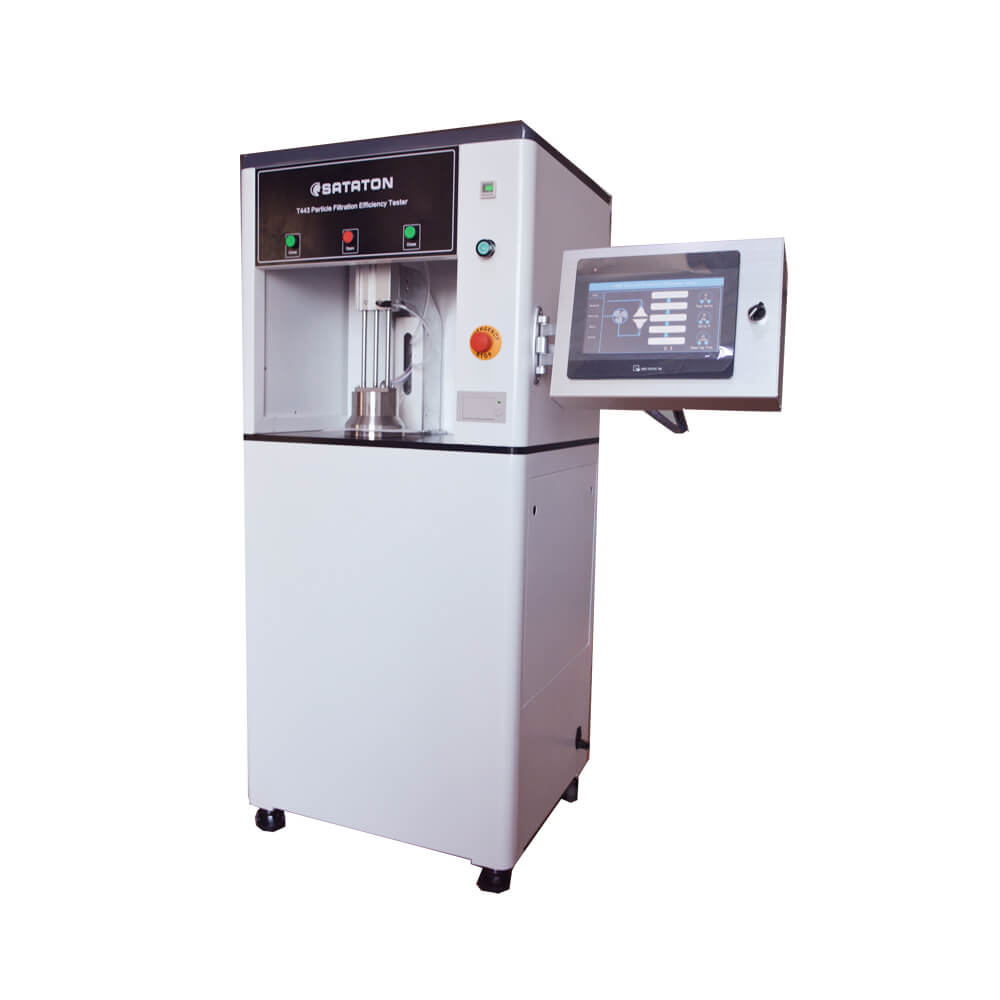 Mask Particle Filtration Efficiency Tester
Responsing Time:
1 Working Days
Overview
Face mask particle filtration efficiency (PFE) tester is test machine to determine the particulate filter penetration and filtration efficiency for respiratory protective devices, face masks and melt blown fabrics. The tester with particle generator can provide sodium chloride particles and paraffin oil particles. It can measure the particle penetration, filtering efficiency and the breathing resistance delta P. It is widely used in quality control, research and development, certification, manufacturing or testing industry, etc.
Standard
ASTM F2100 9.3, ASTM F2299, EN149, EN143, JIS/T 8151, NIOSH 42 CFR84 NBR150, GB 2626, GB/T 32610, GB/T 19083
Feature
Provide test flow by dry&clean compressed air outside. Internal voltage stabilization and flow stabilization devices to ensure the stability of the detected flow
7" or 10″ touch screen, Equipped printer for data printing, data can be saved or printed. External memory card, export data without worrying about data loss.
Differential pressure of the filter material obtained through the static pressure ring of the upstream and downstream of test chambers, adopt high-precision differential pressure sensor to get accurate, stable data.
Easy to understand and operate. Place the filter paper in the fixture and press the button to adjust the test flow, the system will automatically test the resistance and efficiency through the controller (PLC).
Specification
T443A for ASTM F2100 & ASTM F2299
Item
Detail
Test aerosol
PSL
Flow rate
8-100 L/min ±2.0%
Test pressure range
0-1000Pa ±1.0%
Particle countering range
Six channel for 0.1μm, 0.2μm, 0.3μm, 0.5μm, 1.0μm, 5.0μm
Test area
100cm2
Sample clamp
Penumatic
Display
10″ Touch screen control panel
Data export
Embedded printer
Power supply
220V 50-60 Hz
Dimensions
700mm×600mm×1520mm
27.56inch×23.62inch×59.82inch
Net weight
CA. 85kg
CA. 187.39lb
T443Z for EN 149,  NIOSH, GB 2626
Item
Detail
Salt particle CMD
0.075μm
Oil particle CMD
0.185μm
Flow rate
8-100 L/min ±2.0%
Particle concentration detection range
(0.001-200)mg/m³
Test pressure range
0-1000Pa ±1.0%
Test aerosol
DEHS, Paraffin oil, NaCl
Test area
100cm2
Particle counting
Photometer
Display
10″ Touch screen control panel
Data export
Embedded printer
Power supply
220V 50-60 Hz
Dimensions
700mm×600mm×1520mm
27.56inch×23.62inch×59.82inch
Net weight
CA. 85kg
CA. 187.39lb
T443 for Two Channels for
ASTM F2100 9.3, ASTM F2299 EN149, EN143, JIS/T 8151, NIOSH-42 CFR84 NBR 150, GB 2626, GB/T 32610, GB/T 19083
| | |
| --- | --- |
| Item | Detail |
| Aerosol Channels | 2, Salt&Oil + Latex Spheres |
| Aerosol detector | 0.1-10μm Scatter laser photometer, 0.1-5μm particle counter |
| Control mode | Laptop computer + English operation software+7" Touchscreen |
| Flow rate | 15-100 L/min, accuracy±2.0% |
| Resistance test range | 0-1000Pa, accuracy 0.1pa |
| Test air flow cross-sectional area | 100cm2 |
| Filtration efficiency test range | 0 to 99.999%, resolution 0.001% |
| Test time | Simultaneous efficiency and resistance test 70s |
| Aerosol concentration detection range | 0.001-300mg/m³ |
| Data printing | Yes |
| Power supply | Single phase, 220 V 50HZ |
| Dimension | 1150 x 650 x 1200 mm |
| Net weight | 120kg |
Configuration
| | |
| --- | --- |
| No. | Product |
| 2044301 | Face mask particle filtration efficiency tester |
| 2044302 | NaCl particle generator |
| 2044303 | Oil particle generator |