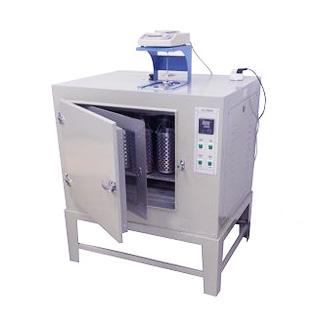 Moisture Regain Oven
Responsing Time:
1 Working Days
Overview
Moisture Regain Tester is the quick moisture drying chamber to measure moisture regain performance of fibers, yarn and fabrics. By providing hot air flow by air suction, the tester can dry the specimen in a short time without other pre-heating procedure.

Standards
ISO 6741  ISO 2060  GB/T 4743  GB/T 5883  GB/T 9995  IWO 33-34  UNI 5089  UNI 1323-1326  ASTM D1576
Feature
PID control system provides solid and stable temperature state.
Push-option switch or LCD display can be chosen as required.
Three kinds of cans with different height accord to different materials of standards.
Support connecting with printers.
Specification
| | |
| --- | --- |
| Item | Detail |
| Temperature range | Up to 150℃ |
| Accuracy | ±1℃ |
| Balance range | Up to 300g |
| Accuracy of balance | 10mg |
| Rotary speed | 2.4rpm |
| Can number | 8 |
| Can diameter | 245mm |
| Can height | 190mm, 220mm, 310mm |
| Air flow | 0.2m/s-1m/s |
| Power supply | 220V 50Hz |
| Dimension | 960mm×780mm×1150mm 37.80inch×30.71inch×45.28inch |
| Net weight | 125kg 275.58lb |
Configuration
| | |
| --- | --- |
| No. | Product |
| 2024301 | Moisture Regain Tester |
| 2024302 | Moisture Regain Tester (LCD display) |
| 2024303 | Printer |