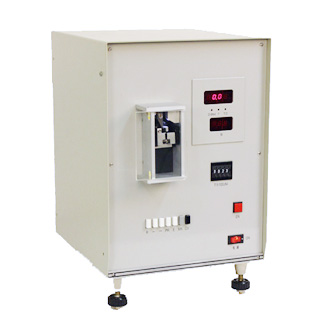 Fiber Fineness Meter
Responsing Time:
1 Working Days
Overview
Fiber fineness meter uses vibroscope method to determine the linear density of textile fibers applicable to bundles of fibers and individual fibers. By the principle of string vibration, the vibrating fineness meter can measure the natural vibration frequency under a certain length and tension and provide fiber linear density after automatic calculation of string vibration formula. It is applicable for natural fiber or man-made fiber, short fibers or long fibers.
The fiber tensile tester can work with vibrating fiber fineness meter to provide fiber strength, fiber linear density, strength ratio, initial modulus, specific work to rapture and other performance parameters of fiber. Tensile tester-vibrating fineness meter accords with the recommended method of BISFA (Bureau International pour la Standardisation des Fibres Artificielles).


Standards
GB/T 14335   GB/T 16256   ISO 1973   BISFA
Feature
Fast and stable performance.
Not only linear density, but also density irregularity with quality distribution.
Microprocessor controlled system with self-excited oscillation principle raise the test precision.
Simple auto operation mode can reduce the artificial test error.
User-friendly interface supports data analysis, data storage, report output and others.
Integrated software is compatible with different testing units.
Specification
Item
Detail
Linear density range
0.6~40 dtex
Density measuring error
≤±2%
Clamping length
20mm
Length error
≤±1%
Pre-clamping force accuracy
≤±0.5%
Frequency measuring error
≤±0.5%
Power supply
220V 50Hz
Dimension
393mm×300mm×320mm
15.47inch×11.81inch×12.60inch
Net weight
10kg
22.05lb
Configuration
| | |
| --- | --- |
| No. | Product |
| 2024501 | Fiber fineness meter |
| 2024502 | Analyzing software |
| 2024503 | Computer |
| 2024501 | Fiber tensile tester |