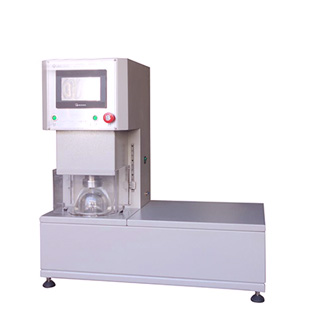 Fabric Hydraulic Bursting Strength Tester
Responsing Time:
1 Working Days
Overview
Fabric hydraulic bursting strength tester is professional designed for the determination of bursting strength and bursting distension of textile fabrics, paper and board, non-woven, plastic and composite film, etc. It uses hydraulic method which uses constant pumping device provides hydraulic pressure to test the materials.


Standards
GB/T 7742.1  ASTM D3786  BS EN ISO 13938-1  BS 3424-6-B  ISO 3303.2  ISO 2758  ISO 3689  JIS L1018  IWS TM170
Feature
Touch screen can provide English and Chinese control language.
Pneumatic clamps can avoid specimen slip.
Microprocessor controller provides automatic testing process and analyzing function.
Data export and storage.
High sealed oil cylinder can avoid the mistakes from oil leakage.
Equipped with pressure calibration port.
Specification
Item
Detail
Pressure
Up to 2.000MPa (0.01kpa)
Distension
Up to 70mm (0.01mm)
Pressure rate
10ml/min~500ml/min
Test area
Φ79.8mm(50cm²) Φ30.5mm(7.3cm²)
Optional test area
Φ112.8mm(100cm²)  Φ35.7±0.2mm(10cm²)

Φ31.5mm(7.5cm²)   Φ31mm   Φ30±0.2mm

Power supply
220V 50Hz
Dimension
850mm×470mm×870mm
33.46inch×18.5inch×34.25inch
Net weight
135kg
297.62lb
Configuration
| | |
| --- | --- |
| No. | Product |
| 2036201 | Digital bursting strength tester |
| 2036202 | Air compressor |
| 2036203 | Testing kit (Diaphragm and glycerin) |
| 2036204 | Optional testing cups |
| 2036205 | Calibration aluminum foil |