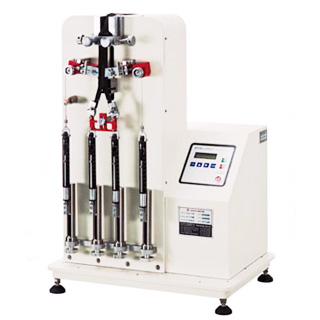 Zipper Reciprocating Fatigue Tester
Responsing Time:
1 Working Days
Overview
Zipper reciprocating fatigue tester is professional designed to determine the performance levels of zippers or slide fasteners. It is specified for the reciprocating test to evaluate the end-use performance and service life of zippers/ slide fasteners. By providing a specified number of cyclic operations whilst under lateral and longitudinal tension, the tester makes all the test results stable and reproducible.


Standards
QB/T 2171  QB/T 2172  QB/T 2173  BS 3084  AS 2332  NF G91-005  JIS S3015  DIN 3419-1  SATRA TM50
Feature
Adjustable lateral and longitudinal clamps with easy-to-use adjusting screw make specimens mounted more convenient.
Equipped with 30° and 60° positioning angle gauge.
High quality motor provides lower running sound and longer service life.
Specification
Item
Detail
Reciprocation stroke
75mm
Running speed
Adjustable
Width of lateral clamps
25mm
Combined weight of longitudinal clamps, balances and swivel plate
0.28kg-~0.34kg
Angle α
30° (specimen open), 60° (specimen closed)
Count range
1-999999
Power supply
220V 50Hz
Dimension
280mm×550mm×660mm
11.02inch×21.65inch×25.98inch
Net weight
35kg
77.16lb
Configuration
| | |
| --- | --- |
| No. | Product |
| 0886101 | Zipper reciprocating fatigue tester |
| 0886102 | Angle gauge kit |