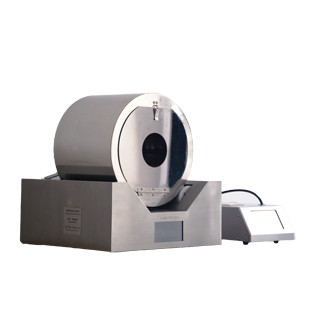 Helmke Drum Tester
Responsing Time:
1 Working Days
Overview
Helmke drum tester(also called as Helmke Yeich Tumble Drum Test Machine) is to determine a garment cleanliness classification with tumbling or rotating drum method. The tester with Helmke drum test method is used to quantify particles dislodged from garments through the application of mechanical energy under dry conditions as a means of simulating particle shedding from the surface of the garment during use. By providing tumbled movement in a rotating drum to release particles from the fabric in a controlled manner, the tester will determine the particle emission rate to classify the cleanliness of garments, like woven, nonwoven and coated fabrics.


Standard
IEST-RP-CC003.3   GB/T 24249
Feature
Touch screen control panel.
Adjustable rotating rate of drum.
Real-time particle emission rate data acquisition system.
High quality motor provides lower running sound and longer service life.
Specification
Item
Detail
Particle detection
≥0.3μm
Rotating rate
10rpm (Adjustable)
Air tube position
11 o'clock as drum drum cockwise
Flow rate
28.3L/min
Power supply
220V 50Hz
Dimension
650mm×560mm×520mm
25.596inch×22.05inch×20.47inch
Net weight
35kg
77.16lb
Configuration
| | |
| --- | --- |
| No. | Product |
| 2047301 | Helmke-Yeich drum tester |
| 2047302 | Particle counter |
3 reviews for

Helmke Drum Tester
You must be logged in to post a comment.