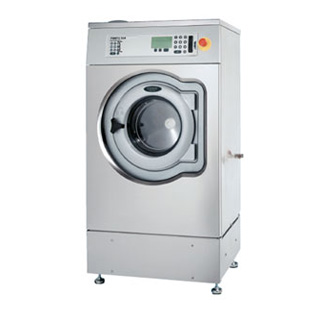 ISO Washing Machine
Responsing Time:
1 Working Days
Overview
ISO washing machine-Wascator is the equipment for simulating home laundry test conditions. ISO 6330 washing machine is to determine dimensional changes of fabrics or garments, colorfastness to detergents or bleach, appearance changes and retention of creases. By simulating usual home laundry, ISO washing machine-Wascator provides standardized testing conditions to reduce mistakes and contrasts.


Standards
ISO 5077, ISO 6330, M&S P1, M&S P1A, M&S P3A, M&S P12, M&S P91, M&S P99, M&S P99A, M&S P134, BS EN 25077, BS EN 26330, IWSTM 31, IEC 456, NEXT TM7, NEXT TM7A, NEXT TM7B, NEXT TM TM12
Feature
Meets IEC and ISO international standards.
Suspended drum construction allows a high extraction force.
Small space between outer/inner drum for efficient use of water and detergent.
Dual water control of volume and level.
Built in scale for precise volume control, accuracy.
Equipped with a fully programmable electronic timer.
Frequency controlled motor system for flexibility in programming and precise speed.
Test tap for water sample.
Stainless steel drum assembly, front, side and top panel.
Specification
Item
Detail
Volume of drum
61L
Diameter of drum
Φ520mm
Washing speed
(20-59±1)rpm
Extraction
Max 1100rpm
G factor
Max 350
Heating
5.4kW
Inlet hot water
Max (60±2)℃
Inlet cold water
(15±2)℃
Capacity at 300kPa
20L/min
Draining capacity
150L/min
Liquid detergent supplies
4
Air borne sound level
71dB(A)
Power supply
230V 50Hz or 400V 50Hz or 415V 50Hz
Dimension
690mm×720mm×1315mm
27.17inch×28.35inch×51.77inch
Net weight
195kg
429.9lb
Configuration
| | |
| --- | --- |
| No. | Product |
| 2035301 | ISO washing machine-Wascator |
| 2035302 | Memory card |
| 2035303 | Standard detergent |
| 2035304 | Standard bleach |