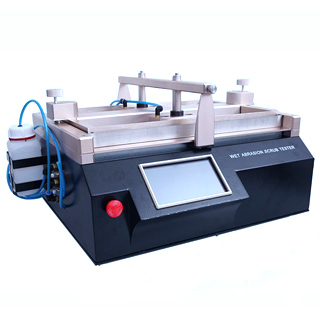 Abrasion Washability Tester
Responsing Time:
1 Working Days
Overview
Abrasion washability tester which is also called abrasion scrub tester or wet abrasion tester is to measure the resistance to abrasion of coatings caused by brush, sponge or other mean methods. The tester can measure the washability and relative properties that affect the stain resistance of coating such as paint, varnish, lacquer, leather, plastic, printed material or fabrics and this is the repeatable, controlled way to simulate the daily use or wear patterns of the coatings.


Standards
ISO 11998  ASTM D2486  ASTM D3450  ASTM D4213  ASTM D4828  DIN 53778  DIN 13300  ANSI 2124.1.2
Feature
Touch screen with preset and automatic testing system.
Abrasives all can be interchangeable as testing requires.
Chinese or English testing interface.
Peristaltic pump provide more accurate flow of liquid.
Specification
Item
Detail
Position
2
Reciprocating speed
37±1 cycles/min
Number range
1-9999
Specimen thickness
Up to 25mm
Height range
0-25mm
Power supply
220V 50Hz
Dimension
500mm×470mm×320mm
19.69inch×18.5inch×12.6inch
Net weight
35kg
77.16lb
Configuration
| | |
| --- | --- |
| No. | Product |
| 1232101 | Abrasion washability tester |
| 1232102 |  250g Wild boar brush |
| 1232103 | 500g Wild boar brush |
| 1232104 | 450g Wild boar brush |
| 1232105 | 454g Nylon brush |
| 1232106 | 750g Sponge |
| 1232107 | 1500g Linear abrader |