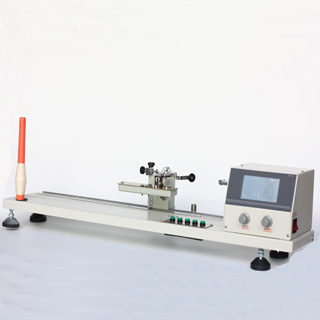 Yarn Twist Tester
Responsing Time:
1 Working Days
Overview
Yarn twist tester with digital microprocessor controller is to determine the twist of single or piled yarn. Built-in different testing routines can accommodate for different industry or standard requirements. Special options include standard testing modes and custom modes, designed to satisfy various standards or the specific using requirements. Automatic testing process and calculating system can reduce the human subjective errors and raise the degree of precision. The tester supports the data storage and export, it is a great help for data analyses and comparisons.


Standards
GB/T 2543.1   GB/T 2543.2   FZ/T 10001   ASTM D1422   ASTM D1423     BS 2085   DIN 53832   ISO 2061   IWTO 25-70   JIS L1095
Feature
Microprocessor controlled system can analyze the data automatically.
Data automatic display, storage and support print output.
Tester can connect computer for further data saving and analyzing.
Color touch screen with Chinese and English interface.
Dual speed measurements of yarn gripper provide a precise rotation rate.
Specification
Item
Detail
Four standard testing modes
F0-Direct counting method
F1-Single untwist-retwist method
F2-Double untwist-retwist method
F3-Multiple untwist-retwist method
Testing length
10-500mm
Rotation rate range
100-1900r/min
Manual adjusting rotating rate
100-1900r/min
Twist number
1-1999
Power supply
220V 50Hz
Dimension
890mm×290mm×215mm
35.04inch×11.42inch×8.46inch
Net weight
11kg
24.25lb
Configuration
| | |
| --- | --- |
| No. | Product |
| 2025101 | Yarn twist tester |
| 2025102 | Weights |