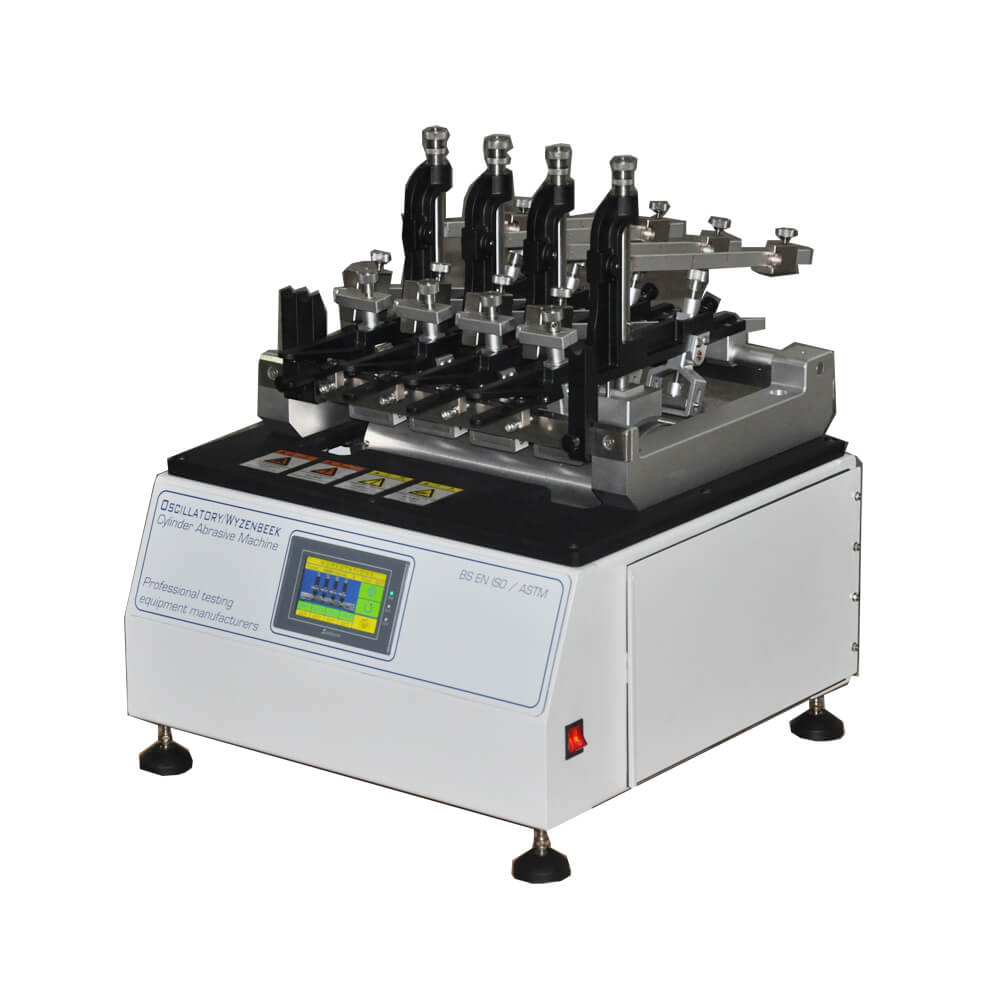 Wyzenbeek (Oscillatory) Abrasion Tester
Responsing Time:
1 Working Days
Overview
Wyzenbeek Abrasion Tester which is also called as Oscillatory cylinder abrasion tester is to determine the abrasion resistance of woven textile fabrics using the oscillatory cylinder method. The specimen is measured by subjecting to unidirectional rubbing under certain pressure, tension and abrasive action. After testing, the specimens are evaluated by rupture, percentage loss in breaking loss and visual changes. Oscillatory cylinder tester is especially suitable to evaluate the abrasion resistance property of automobile decorating material and synthetic leather.


Standards
ASTM D4157, ASTM D3597, FED-STD-191/5304, SAE J948, SAE J1530, GM 2756M, Toyota TSL 5101G 3.9.4, BS EN ISO 12402-2, LP-463KB-06-01, LP-463KC-04-01
Feature
Adjustable pressure, tension and rotational rate.
Applicable to different materials with various thicknesses.
Auto stop when reaching the preset terminal point.
High quality motor provides lower running sound and longer service life.
Specification
Item
Detail
Position
4
Arc of surface
76mm
Running rate
90rpm
Tension calibrated mass
340g, adjust tension 4.45N(1lbf)~26.7N(6lbf)
Pressure calibrated mass
150g, adjust pressure 4.45N(1lbf)~15.575N(3.5lbf)
Counting range
0-999999
Power supply
220V 50Hz
Dimension
570mm×590mm×720mm
22.44inch×23.23inch×28.35inch
Net weight
65kg
143.3lb
Configuration
| | |
| --- | --- |
| No. | Product |
| 2033201 | Oscillatory (Wyzenbeek) abrasion tester |
| 2033202 | Sponge rubber pressure pad |
| 2033203 | #10 Cotton Duck |
| 2033204 | Wire screen |
| 2033205 | Grit sandpaper |
| 2033206 | Nylon brush |
| 2033207 | Mild household detergent solution |
| 2033208 | Air supply, with regulated nozzle |