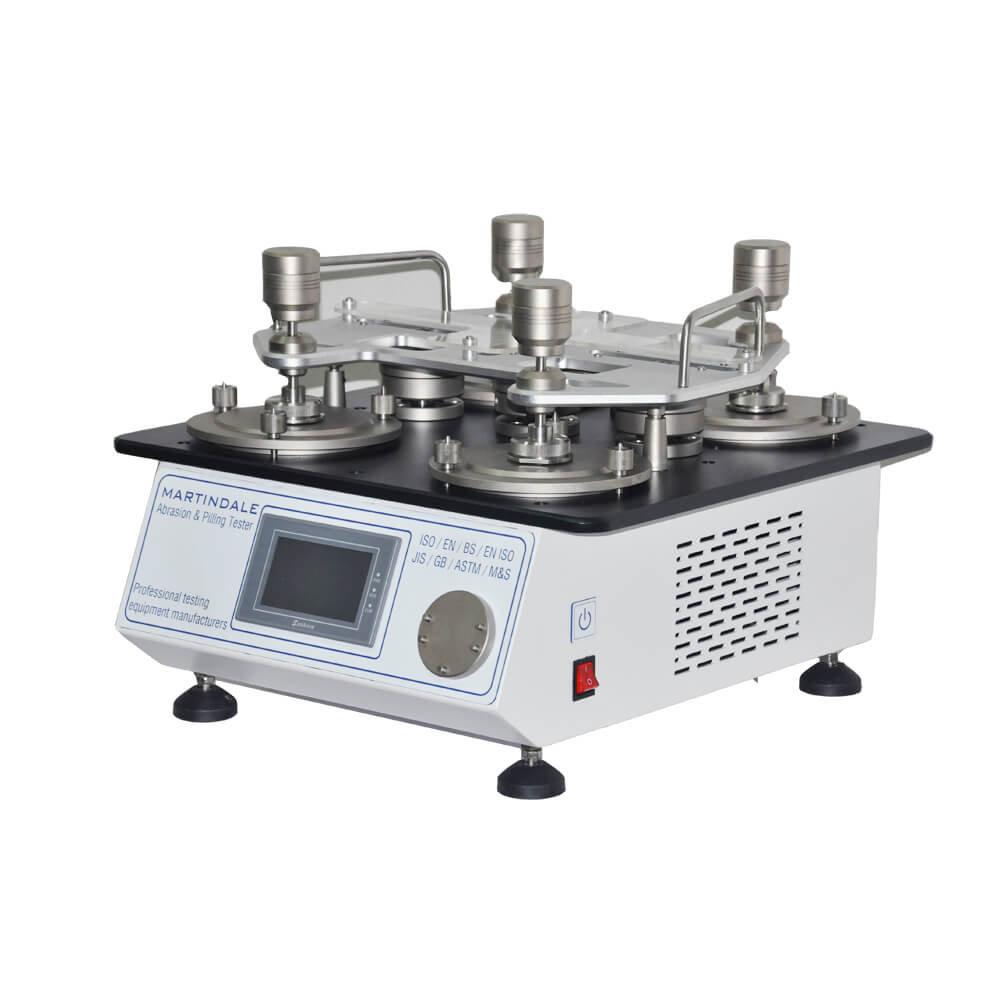 Martindale Abrasion and Pilling Tester
Responsing Time:
1 Working Days
Overview
By providing a defined load, a translational movement tracing a Lissajous figure and abrasive medium, martindale abrasion tester is professional designed for determining of the abrasion resistance of fabrics including specimen breakdown, mass loss and appearance change. The tester can also use to determine the resistance to pilling and surface change of textile fabrics. With accessories, the tester is to determine abrasion resistance of lining and insock for personal protective footwear. It is widely used to evaluate the properties of clothes fabrics, coating materials, wool fabrics, nonwovens and other special materials for protective equipment.


Standards
BS EN 943, GB /T 4802.2, M&S P140, M&S P19, ISO 12945-2, JIS L1096, ISO 17076-2, ASTM D4966, ASTM D4970, BS 3424, IWSTM 112, EN 343, EN 530, EN 13770, BS EN 15973, ISO 12947, BS 2543, GB /T 13775, GB /T 21196, ISO 20344, ISO 5470-2, IWTO 40, IWSTM 196, BS EN 14605, BS EN 14465, BS EN 14325, JIS L1096, SN 198525, BS 5690, NEXT 18, M&S P140, EN 388, M&S P17, M&S P18C, M&S P19, BS EN 16094, WSP 020.5.R3 (12), ARCADIA AG 32, ARCADIA AG 34, ARCADIA AG 35, IS 12673,  BS EN ISO 17704, BS EN ISO 26082-1, IUP 48-2, IUP 53-1, SFS 4328, ARCADIA AG 26, GB /T 21196,  NEXT 26, GMW 15377, GB 24540
Feature
Microprocessor controlled touch screen with bilingual (Chinese and English) to operate.
Pre-programmable testing positions can count and set individually.
User friendly loading and unloading specimen holder and changeable weights meets different testing requirements.
Specification
Item
Detail
Position
4, 6 or 9
Counting range
0-999999
Longitudinal and transverse directions of guide plate
60.5±0.5mm or 24±0.5mm
Loading pieces
595g(9kpa)or 795(12kpa)
Specimen holder
φ28.8mm or φ90mm
Rotational speed
Adjustable 20-70rpm
Power supply
220 AC  50Hz
Dimension
565mm×565mm×315mm
22.24inch×22.24inch×12.40inch
Net weight
40kg
88.18lb
Configuration
| | |
| --- | --- |
| No. | Product |
| 2033101 | Martindale abrasion tester (4 head) |
| 2033102 | Martindale abrasion tester (6 head) |
| 2033103 | Martindale abrasion tester (9 head) |
| 2033104 | 9kpa loading pieces |
| 2033105 | 12kpa loading pieces |
| 2033106 | Specimen mounting weight |
| 2033107 | 38mm specimen cutter |
| 2033108 | 140mm specimen cutter |
| 2033109 | Wool abradant fabric |
| 2033110 | Backing foam |
| 2033111 | Woven wool felt disc φ140mm |
| 2033112 | Woven wool felt piece 1m x 1.5m |
| 2033113 | Nonwoven felt disc φ140mm |
| 2033114 | Nonwoven felt piece 1m x 1.8m |
| 2033115 | Felt disc φ90mm |
| 2033116 | F2 abrasion sheets |
| 2033117 | 180g silicon carbide sheets |
| 2033118 | EMPA photographs for pilling test (knitted) |
| 2033119 | EMPA photographs for pilling test (woven) |
| 2033120 | SM 50 Photographs |