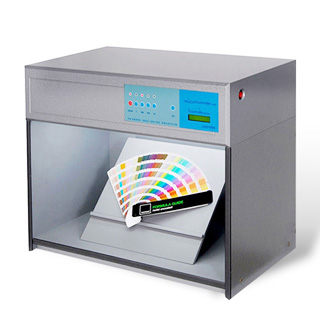 Color Assessment Cabinet
Responsing Time:
1 Working Days
Overview
Color assessment cabinet also known as light box, viewing booth and color matching cabinet is the best tool for materials' color assessment by providing standard, consistent and reliable observation conditions. Color assessment cabinet can provide different light sources such as D65, TL84, CWF, UV and F and the combined light with different light source and these can reduce the problems which are cause by the natural light. Color assessment cabinet is widely applied for many industries such as textiles, printing, ink, pigment, graphic, packaging, clothing, automotive, toy, cosmetic, food and others.


Standards
ISO 3664 ASTM D1729 SAE J361 TAPPI 7515 BS 950 AS 1580.6001
Feature
Programmable system shows using time of each light source individually.
Automatic switch of light source.
Quick response removes the warm-up step.
Lower energy consumption but higher luminous efficiency.
Specification
Item
Detail
Light source
4 or 5
Light
D65, TL84, F, UV and CWF
Power supply
220V 50Hz
Dimension
710mm×405×570mm
27.95inch×15.94inch×22.44inch
Net weight
28kg
61.73lb
Configuration
| | |
| --- | --- |
| No. | Product |
| 2034101 | Color assessment cabinet (4 light source) |
| 2034102 | Color assessment cabinet (5 light source) |
| 2034103 | 45°viewing table |