Sports is very important for human physical activity. Achieving health and great shape may be the purpose for the people who wear sportswear and train very hard. More and more sportswear brands focus on the functional garments to provide high efficient exercise effects. At the same time, technology companies work hard on developing new materials and accessories which can provide more useful functions for sporting exercise.
Recently, a new flexible sensor material with low cost, high tensile performance, high sensitivity was developed by Zheng ping Wang and Rong Sun from Chinese Academy of Sciences Institute Shenzhen advanced materials research center. And the team successfully realize the application of this new material for real-time monitoring of human movement behavior.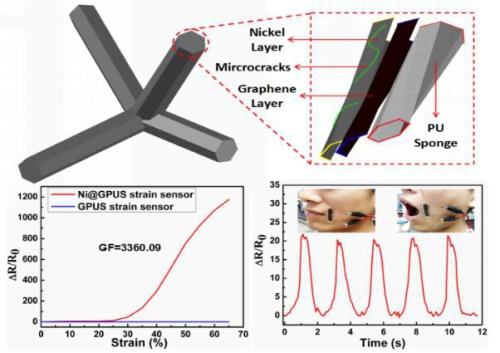 Wearable flexible strain sensor has become the future development direction of intelligent material. It shows great potential in the human-computer interaction system, electronic skin, human movement behavior monitoring system, and other fields. For better application, the stretchability and sensitivity are important performance indexes for strain sensor material. It is a great challenge to achieve high stretchability and raise the sensitivity at the same time.
The researchers in the team use polyurethane sponge which is graphene coated by several adsorption reduction processes. Then they provide a nickel layer with micro cracks on the surface of sponge by electrode-position method to prepare the flexible polymer encapsulated ni/graphene coating preparation of polyurethane sponge flexible strain sensor.
This preparation method is simple and costs lower than traditional method. And the method improves sensitivity by introducing the electrochemical method. The flexible strain sensor has good performance: wide strain range, high sensitivity, quick response time, high reliability (1000 stretch and bending cycles).
In addition, the sensor is successfully applied in the human finger bend activity monitoring and surveillance of facial muscle stretching, etc. It fully demonstrated its application value in the field of flexible wearable electronic equipment.