One of our clients, the manager of a Henan shoes factory told me that over 70% of their modified liberation shoes have been exported to the overseas market, with the European and American markets taking the majority. I don't know when they become popular but I really find it everywhere.
You can find it on the Japanese website, and also on the show of Prada. It was called liberation shoes and was very popular in 1950-1970 in China. You still can find it in China nowadays.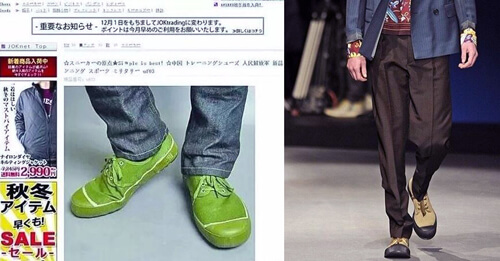 The liberation shoes were adopted firstly by the army since the 1950s. But it was widely adopted by ordinary people after that. Because made of rubber and canvas, it is very light and more suitable for long march than heavy boots. And it has a very flexible sole which ensures the strong grip ability when climbing the mountains. It is shows great slip resistance performance for muddy road. So that's why many soldiers still wear them off the duty even if it has been replaced by the combat boots for training in the army now.
When I talked this with my mother, she still can remember the days she wore the green liberation shoes. At that time, wearing a green canvas liberation shoes means you are a very stylish person. But she said no when I asked if she would like to wear them again. I told her that the liberation shoes were popular now. She said she could not understand this.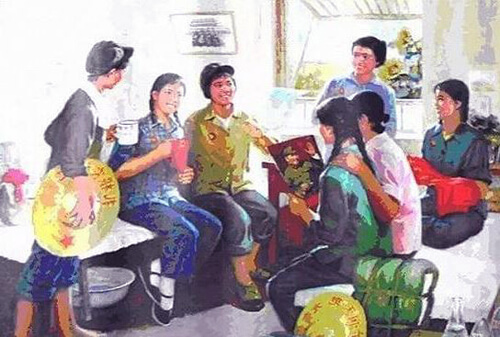 But I can. OSPOP (One Small Point of Pride) shoes were already popular in the United States when it was founded by Ben Walters and modified by designers. They are cool and easy to wear. They have great abrasion resistance performance. But the basic reason depends on the change of fashion attitude. We hope that the shoes are different from sport wear. It should look very low-key but full of attitude and expression of personality.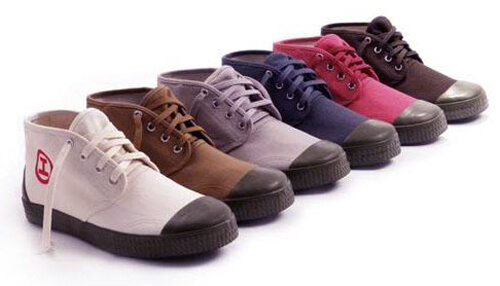 There are similar examples as liberation shoes, feiyue and huili warrior. They are old shoes brands. Most Chinese young people already forgot them. But they find the new spring of their business when they are famous and popular overseas. When I found huili warrior shoes became popular, I recognized it because my grandpa used to wear them to play basketball with his old friends more than a decade ago. I can tell that it is the victory of the marketing but also the victory of the fashion circle.

I think I should collect and save all of my stuff because they may be popular one day and I will use them to be stylish again.