Clinical staff and recovering patients are exposed to the biological fluids that are capable of transmitting diseases, especially for the healthcare workers and hospital staff. The risks for them is mainly because they have to face the threat of microorganism, including bacteria, mold, yeast, fungi, spirochete, viruses, protozoa, etc., is unnoticeable but is dangerous to life and health.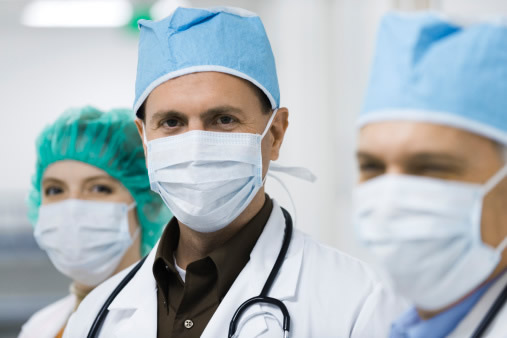 It is necessary for hospital staff to wear medical protective clothes to protect themselves and the patients from the potential which brought by transferred of microorganisms in human blood or human body fluids. Medical protective clothing is made of special textile fabrics which can protect people from blood, fluids and other potential infectious materials. This function can be provided by other type of water or fluid resistant textiles because the normal water repellency textile can't prevent the transmittance of microbes from one person to others. That's the main reason why common water or fluid resistant garments are not suitable for medical protective clothing.
Personal protective equipment which is also called as PPE includes protective clothing or equipment for many particular environments. All of them are aim to reduce the hazards and risk of being exposed to infectious agents. It is categorized for medical protective clothing to prevent the primary routes of transmission including direct or indirect contact transmission, droplets transmission and airborne transmission. The direct or indirect contact transmission is the most common route always occurring when microorganisms transfer directly or indirectly from one person to another. Droplet transmission means the infectious sources by respiratory droplets generated through coughing, sneezing or talking to other people. Airborne transmission occurs by dissemination of either airborne droplet nuclei or small particles in the respirable size range containing infectious agents. Wearing medical protective is possible to create a barrier for people to eliminate or reduce contact and droplet exposure and therefore prevent the transfer of microorganisms between patients and healthcare staff.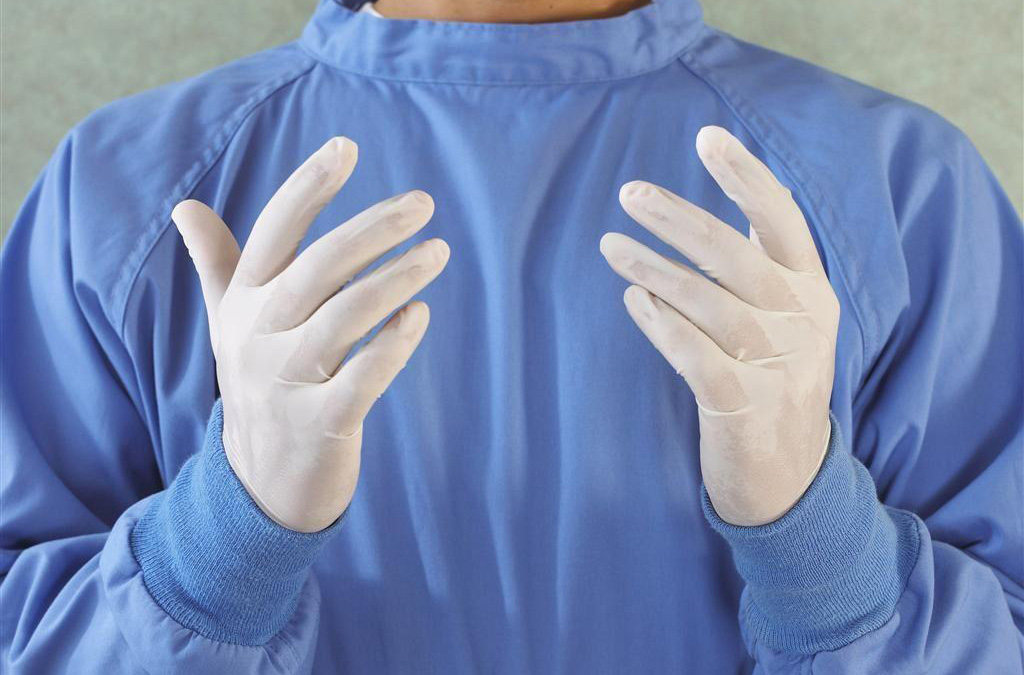 The medical protective equipment includes single use and reusable surgical gowns, surgical drapes, clean air suits, surgical masks, surgical gloves, packing materials, foot and head wear and incision drapes. Selecting the most appropriate medical protective equipment is the prediction for protecting patients and healthcare staff from potential risk of being infected by diseases.
But how to select the right products? When selecting the most appropriate protective clothing, employers should consider all of the available information on recommended protective clothing, including the potential limitations. Employers should consult protective clothing manufacturers as needed in regards to availability and practicality for their facilities. A key step for this process is to understand the relevant standards and test methods.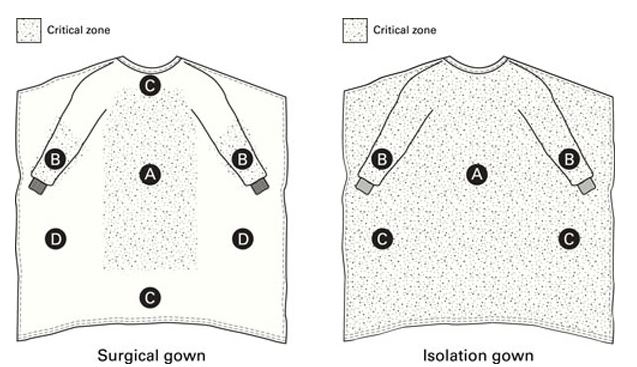 ASTM F1670, ASTM F1671, ISO 16603 and ISO 16604 are to measure blood and viral penetration resistance as direct contact transmission. These standards and test methods are to evaluate the resistance of textile fabrics to synthetic blood penetration and viral penetration.
Standards are available to define the performance requirements for clothing or clothing materials used to protect against infectious agents. ANSI/AAMI PB70, EN 13795, EN 14126, and NFPA 1999 are examples of standards frequently used in the United States and Europe. ANSI/AAMI PB70 is used to classify the garments used in the healthcare industry, such as surgical and isolation gowns. Typically, EN 14126 is used for protective coveralls, and EN 13795 is used for surgical gowns. NFPA 1999-2013 is primarily intended for emergency medical first responders, but its scope also covers medical first receivers.
In the United States, ANSI/AAMI PB70 establishes a system of classification for protective apparel (including surgical gowns and isolation gowns) used in healthcare facilities, based on their liquid barrier performance. It also specifies labeling requirements and test methods for determining the compliance of protective apparel labeled with liquid barrier claims or liquid-borne microbial barrier claims.
EN 13795 is a European recognized standard of quality and conformance to manufacturing, testing and performance specifications for single-use and multiple-use surgical gowns, drapes, and clean-air suits. The standard was developed to assist healthcare professionals in making informed decisions when selecting the appropriate product for the anticipated tasks by specifying a consistent basis for testing and providing a common understanding of barrier properties.
EN 14126 defines performance requirements for materials in protective clothing used to protect from infectious agents. Due to the heterogeneity of microorganisms (in terms of size, shape, infectious dose, survival abilities, etc.), the EN 14126 standard does not define performance criteria for specific types of microorganisms. The test methods specified in this standard focus on the medium containing the microorganism, such as liquid, aerosol, or solid dust particle.
NFPA 1999 was specifically developed to address a range of different clothing items worn by emergency medical service first responders, but also applies to medical first receivers. The standard includes design criteria, performance criteria, labeling requirements, and test methods that address both single-use (disposable) and multiple-use (reusable) emergency medical garments, which can be coveralls, multi-piece clothing sets, or partial body clothing.
Test methods for determination of the barrier resistance of fabrics such as AATCC 42, AATCC 127, ASTM F1670, ASTM F1671, ISO 16603, ISO 16604, are used for both coveralls and gowns. In general, for the classification of the protective clothing, ANSI/AAMI PB70 and EN 13795 are used for gowns and EN 14126 and NFPA 1999 are used for coveralls.