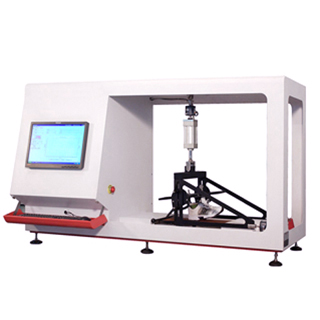 Slip Resistance Tester
Responsing Time:
1 Working Days
Overview
Slip resistance tester is professional designed based on the method of test for the slip resistance of footwear. The tester can provide a certain force on the footwear to the surface which is simulating the floor. Then the tester provides two kinds of relative horizontal move. The frictional force and normal force will be measured automatically and the dynamic CoF will calculated by the system.


Standards
ISO 13287, GB/T 28287,  ASTM F2913, SATRA TM 144,  ISO 24267, ISO 20344, JIS T8101, JIS T8106, JIS T8107
Feature
Built-in computer with testing software will save more space and improve the convenience.
Changeable units of testing surface can meet different testing requirements.
Adjustable frame angle can realize the forward heel slip, backward forepart slip and flat slip.
Automatic calculation system will provide relative parameters.
Professional software make data storage, analysis and report export more convenient.
Specification
Item
Detail
Vertical load
Max 1000N
Horizontal load
Max 1000N
Sliding velocity
Up to (1.3±0.03)m/s
Period time
Preset 0-5s
Vertical sensor
1.25KN
Horizontal sensor
0.8KN×2
Testing rate
50-500mm/s
Language of software
Chinese or English
Testing surface
Ceramic, wood, PVC, stainless steel or other specified materials
Power supply
220V 50Hz
Dimension
1910mm×670mm×1050mm
75.2inch×26.38inch×41.34inch
Net weight
295kg
650.36lb
Configuration
| | |
| --- | --- |
| No. | Product |
| 1212301 | Slip resistance tester |
| 1212302 | Silicon carbide paper |
| 1212303 | Glycerol |
| 1212304 | Detergent |