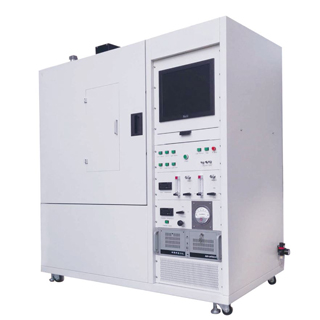 NBS Smoke Density Chamber
Responsing Time:
1 Working Days
Overview
NBS smoke density chamber is to determine the smoke production and specific optical density from the exposed surface of the specimens of solid materials, composites or assemblies by a single chamber test. This smoke and toxicity tester is intended for use in research and development for measuring the response of materials, products or assemblies to heat and flame under controlled conditions. The chamber is widely used in buildings, trains, ships, or other fire safety engineering industries.


Standard
ASTM E662 ASTM F814 NFPA 258 ISO 5659 BS 6401 GB/T 8323 IMO FTPC Part2
Feature
Built-in computer control system is more space saving.
Inside Teflon coating is against the erosion of corrosive gas generated during the test.
Subsidiary heating device can fit with more standards with different temperature requirements.
Explosion protection system provides safe testing procedure for operators.
Automatic pressure regulating system for chamber.
Built-in circulation cooling water system is easy to operate.
Switch for radiant heat furnace and conical radiant furnace.
Automatic calibration with ND2 filter.
Specification
| | |
| --- | --- |
| Item | Detail |
| Control system | 17 inch touch screen computer |
| Heat flux of radiant heat furnace | 25KW/m2 |
| Heat flux of conical radiant furnace | 50 KW/m2 |
| Weight range | 0-5000g |
| Resolution | 0.01g |
| Transmittance accuracy | 0.0001% |
| Software | NI interface |
Configuration
| | |
| --- | --- |
| No. | Product |
| 0640101 | NBS smoke density chamber |
| 0640102 | ASTM E662 radiant heat furnace |
| 0640103 | ISO 5659 conical radiant furnace |
| 0640104 | Weighing device for MOD and heat loss |
| 0640105 | NES 711 combustor |
| 0640106 | Touch screen computer with software |