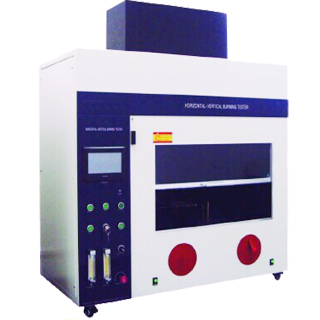 UL94 Horizontal & Vertical Flammability Tester
Responsing Time:
1 Working Days
Overview
Horizontal vertical flame chamber is to determine the flammability of polymeric materials used for parts in devices and appliances. The flame chamber uses standard burner to simulate small open flame or radiant heat source which is as closely as possible actual effects occurring in practice and controlled chamber under certain testing condition to evaluate and describe the flammability properties of tested materials.


Standards
UL 94, GB/T 2408, IEC 60695-11-10, ASTM D3801, ASTM D4804, ASTM D635
Feature
Adjustable burner is easy to control the height and angle.
Automatic testing mode realizes one operator to complete the whole testing process.
Operation holes are ergonomic design.
High power exhausting system can avoid corrosion by combustion fog.
Specification
Item
Detail
Capacity
0.8m³/0.5m³
other volume can be customized
Height of flame
10-200mm
Angle of flame
0-45°
Flow of flame
20-1000mm/min
Pressure of flame
5-200mm wc
Burner height
Up to 50mm
Vertical distance
Up to 450mm
Horizontal distance
Up to 180mm
Burning time
0-99.99s
Afterflame timer
0.00-999.99s
Afterglow timer
0.00-999.99s
Inside chamber
Black
Power supply
220V 50Hz
Dimension
1120mm×600mm×1020mm
44.09inch×23.62inch×40.16inch
Net weight
102kg
224.87lb
Configuration
| | |
| --- | --- |
| No. | Product |
| 0673401 | Horizontal vertical flame chamber |
| 0673402 | Standard burner |
| 0673403 | Sample holder kit |
1 reviews for

UL94 Horizontal & Vertical Flammability Tester
You must be logged in to post a comment.