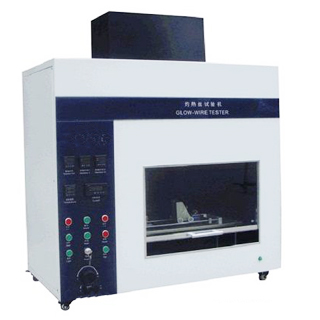 Glow Wire Tester
Responsing Time:
1 Working Days
Overview
Glow wire tester which is also referred to glow wire test apparatus is to test electronic technical products with regard to fire hazard is to duplicate exactly conditions occurring in practice. A loop of resistance wire is electrically heated to a specified temperature and the specimen being tested is brought into contact with the heated wire with a defined horizontal loading which is simulating as closely as possible actual effects occurring in practice. It is common method to evaluate the fire hazard presented by the samples during exposure to elevated temperatures.


Standards
GB/T 5169  IEC 60695
Feature
Stainless steel chamber with painted coating and heat-resistance glass observing window.
Push buttons model and touch screen model are optional.
Advantaged temperature detect and control system.
Chinese and English indicator for buttons.
Specification
Item
Detail
Capacity
≥0.5m³
Temperature
Digital transmit module
Wire
Φ4mm Ni/Cr
Thermocouple
Φ0.5mm K type
Heating range
50-1050℃
Loading pressure
1.0N±0.1N
Running speed
10mm/s-25mm/s
Digital timer
0.01s-99.99s
Power supply
220V 50Hz
Dimension
1120mm×600mm×1020mm
40.09inch×23.62inch×40.16inch
Net weight
97kg
213.85lb
Configuration
| | |
| --- | --- |
| No. | Product |
| 0673101 | Glow wire tester |
| 0673102 | Sample holder and weight kit |
| 0673103 | Φ0.8mm K type thermocouple |
1 reviews for

Glow Wire Tester