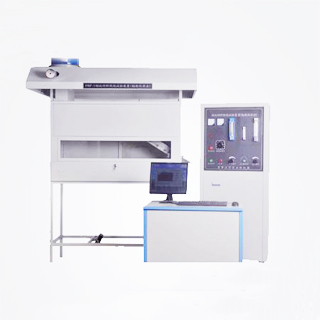 Floor Radiant Panel Tester
Responsing Time:
1 Working Days
Overview
Floor radiant panel tester is to measure the burning behavior, spread of flame and fire hazard of horizontally mounted floorings such as textile carpet, cork, wood, rubber, coating plastics exposed to a heat flux radiant gradient in a test chamber. The tester is applicable to describe the properties of floorings in response to heat and flame under wind-opposed flame-spread conditions.


Standards
ISO 9239.1 ISO 9239.2 GB/T 11785 ASTM E648 ASTM E970 NFPA 253
Feature
Stainless steel structure is corrosion resistant.
Controlled software with real time display is easy to use and supports different data output requirements.
Automatic detection and calculation of light transmittance by optical-electric module and software.
Standard heat lux radiant panel with 30° angle.
Easy to operate valve is more precise to control gas flow.
Self-contained air supply system can provide mixed combustion gas.
Safety cut out and automatic alarm system.
Specification
Item
Detail
Heat source
300mm×450mm heat lux radiant panel
Calorimeter
Up to 50kW/m²
Burner
Φ0.7mm
Thermocouple
±0.5℃
Smoke measuring system
Optical-electric module
Light transmittance detecting range
0-100%
Power supply
220V 50Hz
Dimension
2200mm×1200mm×2400mm
86.61inch×47.24inch×94.50inch
Net weight
345kg
760.59lb
Configuration
| | |
| --- | --- |
| No. | Product |
| 0650201 | Floor radiant panel tester |
| 0650202 | Control cabinet |
| 0650203 | Computer with software |