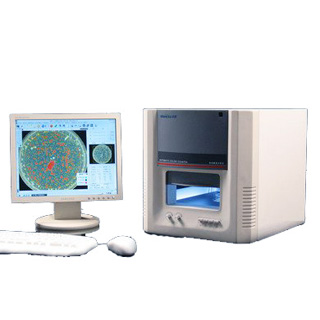 Automatic Colony Counter
Responsing Time:
1 Working Days
Overview
Automatic colony counter is an economical and practical apparatus designed for the ordinary microbiology laboratory. It is high effective tool for colony countering work in the medical textile evaluation and measurement. The automatic type colony counter will reduce the artificial errors and provide more accurate countering results for colony forming unit (cfu) of microorganisms, single cells or aggregates during Quinn test and tests.


Standards
GB/T 15975  AATCC 100  JIS L1902  EN 13795
Feature
Dynamic high speed CCD camera system provides accurate countering view.
Intelligent recognition technology of colony makes the countering and statistic results more accurate.
Quick and efficient image transfer interface with true color CCD will improve the experimental efficiency greatly.
Selection viewing area is easy and effective for operators to choose the exact view field.
Specification
Item
Detail
Imaging Device
CMOS with fixed focus lens
Resolution
2048x 1536 Pixel
Minimum colony size
0.06mm
Illumination
Sealed chamber with LED system
Automatic colony counting
Counts pour, spread plates; filters & 3M Petrifilm
Count Speed
300 per second
Selected areas
Round, rectangular, semicircle, fan-shaped or arbitrary shape
Colony selection
Color or diameters
Separate overlapping colonies
Automatic or manual mode
Data
Database for images and results storage
Data reporting
Yes
Power supply
220V 50-60 Hz
Dimensions
340mm×340mm×415mm
13.39inch×13.39inch×16.34inch
Net weight
12 kg
26.46lb
Configuration
| | |
| --- | --- |
| No. | Product |
| 2043501 | Automatic colony counter (PC mode) |
| 2043502 | Automatic colony counter (Touchscreen mode) |
| 2043503 | Computer with analysis software |
| 2053404 | Petri dish kit |